I had an old SR Mariner Analog Depthfinder that no longer worked.  I opted to buy a fishfinder rather than get the depthfinder fixed. I sail on the Potomac River and I felt there was a benefit to getting a Fishfinder in that the change in the depth is more apparent - kind of maps the river contour and rate of depth change.

I decided to mount the fishfinder on a swing arm from inside the companionway.  I could have mounted it on the outside where the old depthfinder was located but that would then partially block/confine the option for my spouse to sit with her back leaning against the companionway bulkhead.  I have seen others mount it in that location and there are benefits to that installation - Mounting outside with a quick disconnect first of all reuses the hole area of the old depthfinder once a cover is put over that area -  So aesthetically, it may have benefits.  The installation is less complicated and probably will hold up for a long time.  Someone can lean against the bulkhead but just a bit confined with the fishfinder there.   The benefits of the swing arm is that it frees the entire bulkhead for leaning against. Does not require disconnecting the fishfinder from it's mount, it just swings into the boat when not used.  The swing arm has, however, some compromises.  The companionway is slightly blocked by the fishfinder if one needs to go into the cabin and does not swing the fishfinder out of the way.  The bracket in the cabin sticks out a bit near the sink, though, does not appear to be in the way for sink use.

The depthfinder had approximately a 4-4 1/8" hole in the companionway bulkhead. I decided to cover the hole with 1/2" polymer board matl from West Marine (Starboard matl).  I cut the circle using a scroll circle sizing it about 1" larger in diameter so that there was a lip/flange overlapping the hole. I then used a round bevel router bit attached to my radial arm saw drill chuck to put a rounded outer edge to the circle.  I used 3M Marine sealant (#4200) for a waterproof seal of the flange surfaces.  6 machine screws, drilled to pass thru the existing hole circumference, held the outer circle to the polymer board on the inside of the companionway which was also used to mount the RAM Swing Arm mount for the Humminbird Matrix 17 Fishfinder.  (I used plastic teak color caps to hide the screw heads on the outside circle.)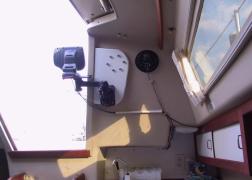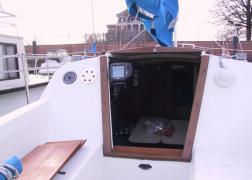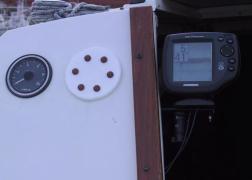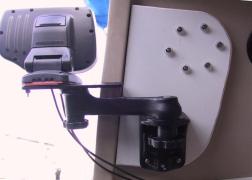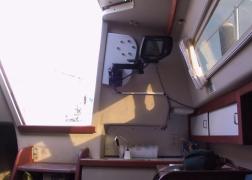 Click On The Photos To Enlarge

I mounted the transducer in the hull using the wax from a toilet seal. Basically took a glob of wax, plopped it down and pushed the transducer into it. Resulted in a snug fit !